Important information Rebotnix "PIXELCAM"
Despite false media reports, Evotegra GmbH provided the real-time face-detection and pixelation software including all AI components used during the AI premiere in German Live-TV for the show "Bundespolizei Live" by Spiegel TV/Kabel 1 on 18.09.2019. The software was installed and executed on servers provided by Rebotnix. Due to required last minute adaptations like the "adaptive blurring" feature our software and AI components including the source code got exposed to Rebotnix on these systems. Short-term after the show the CEO of Slot3/Rebotnix approached all Evotegra team members with the request for a telephone call. Evotegra GmbH is in the process of filing legal actions against but not limited to Slot3 GmbH/Rebotnix related to the use of our software.
The Rebotnix "Pixelcam"  system includes similar features (e.g. "Adaptive Blurring", Tracking), performance figures (15ms) and shows similar detection characteristics as the Evotegra AI software that got exposed to Rebotnix. Despite the claim of a 2 year development time we have never seen any evidence of a Rebotnix software capable of real-time image processing for live-television in the course of the collaboration of Rebotnix and Evotegra during 2019. We will protect our copyright to the full extend of applicable law.
We will release a full press release including the role of the Spiegel TV management soon.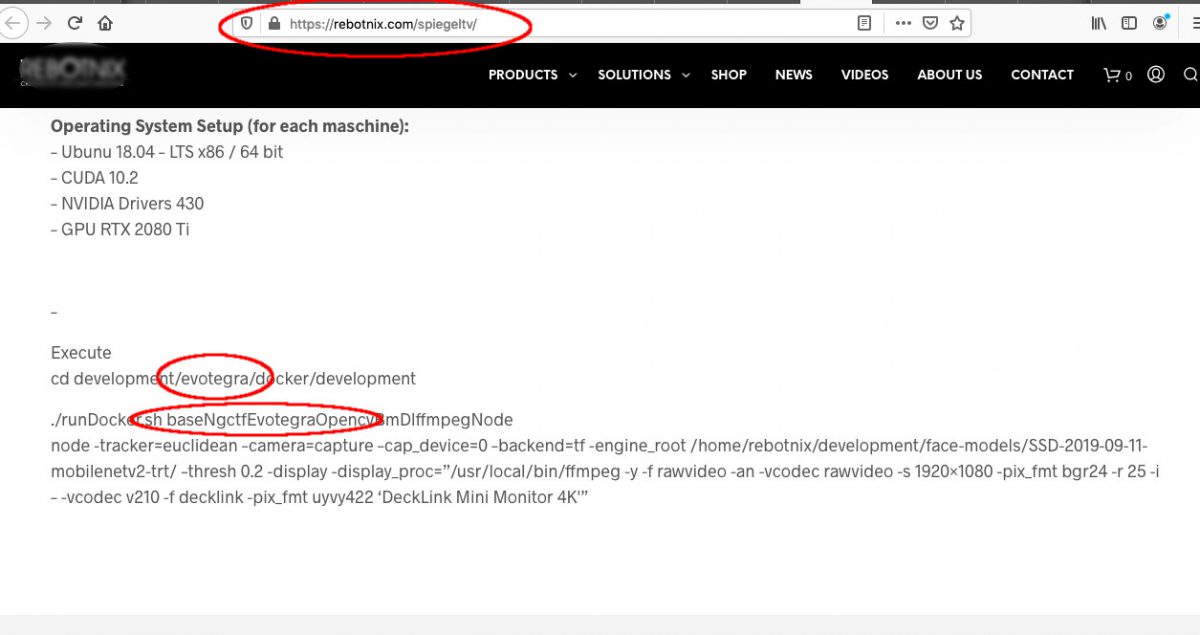 Usage instructions to Evotegra AI software for face detection and blurring related to Spiegel TV on public Rebotnix website as of 11/02/2020